WOMEN IN WAR
November 11 - 16, 2018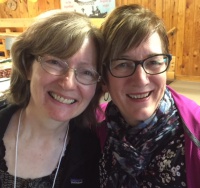 Wainwright and District Storytelling Tour with Mary Hays and Doreen Vanderstoop
Mary Hays' mom and dad both served overseas in the army medical corps during WWII. She grew up hearing their stories. Mary has also collected war stories from her home town and from other veterans of WWII.
Doreen Vanderstoop's parents grew up in The Netherlands during WWII. She tells their stories. Doreen also performs music that was popular during wartime. It is an honour for them to tell some of their family stories.
Complete Details Here
---
TALES FROM THE CRYPT
Wednesday, October 31 - 7 pm Shelf Life Books
Headstones tell us the story of who we are, what was important and how we connect to the story of those who have passed on. Join host Michael Newsom, THE UNDERTAKER for TALES from the Crypt as he invites storytellers Mary Hays and Jesse Peachment to share stories of the dearly departed - historical, reverent and irreverent. Musician, Doreen Vanderstoop will bring a tear to your eye with vocal solos from days gone by. Complete Details Here
---
AND MORE IN 2019!
Look for Mary in the new year with Betty Hersberger at Swan Village Senior's Residence on January 14.
Teaching Storytelling for the Adult Learner Centre at Mount Royal University - March 20
Olds Cemetery Tour for the Town of Olds and Mountain View Museum in the Fall
---
You can also find Mary Hays at these events with TALES (The Alberta League Encouraging Storytelling):
Tellarounds. Tellarounds are held the 2nd Wednesday of each month from 7 - 9 pm at Loft 112, 535 - 8 Ave SE Calgary. Suggested donation: $5.00. Everyone welcome.

Storytelling Cafes. Held at 7 pm at Shelf Life Books, #100, 1302 - 4 Street SW, Calgary. Suggested donation: $10.00. Everyone welcome.

At the April 25th Storytelling Cafe, the theme is "Song of the Sea", with hosts Leona Sudom and Mindy Woolcott. Mary will tell the story of Asspipattle and Mester Stoorworm, the great sea serpent.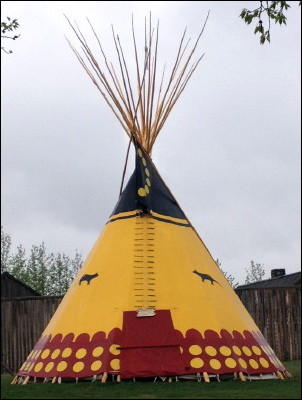 Mary studied the Blackfoot stories for many years with her mentor, Louis Soop - Black Plume. She tells the story of creation and the story of the Sundance which provide the foundation for Naapi, the Trickster and his stories that teach lessons for all of creation.

Louis passed away in March of 2018. He made his journey to the "sky country" with friends and loved ones near, and the fragrance of sage in the air.

Mary is currently performing with other Alberta storytellers in a travelling performance, "Wise and Wilful Women". This story gives voice to Lady Isabella Lougheed, Mary Scott Widner, and Nellie McClung, three historical characters dedicated to social justice.